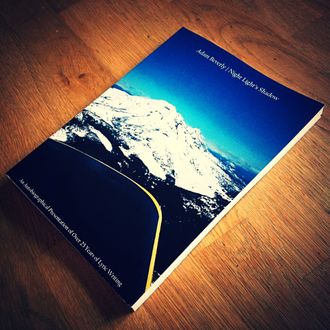 First released in 2017, Adam offers candid and honest insight into his songwriting process in his book "Night Light's Shadow". 
Here in 2019, Adam has released the 2nd Edition.  With just under 200 pages, you can follow Adam's lyric writing from his long-haired days in Central California through his 2016 album "Radios & Navigation" (which appeared on the Grammy Ballot for Best Americana Album) and right up to his 2019 album "Take Forever"! 
Download your online copy now and save it to your favorite e-book app!
Adam Beverly - Night Light's Shadow - 2019 online edition - Oct.'20 edit (6.5MB)
 To order a paper version, please use the form below. Prices and shipping will be confirmed before any order is sent.